Vacuum Used Lubricating Oil Regeneration and Recycling Machine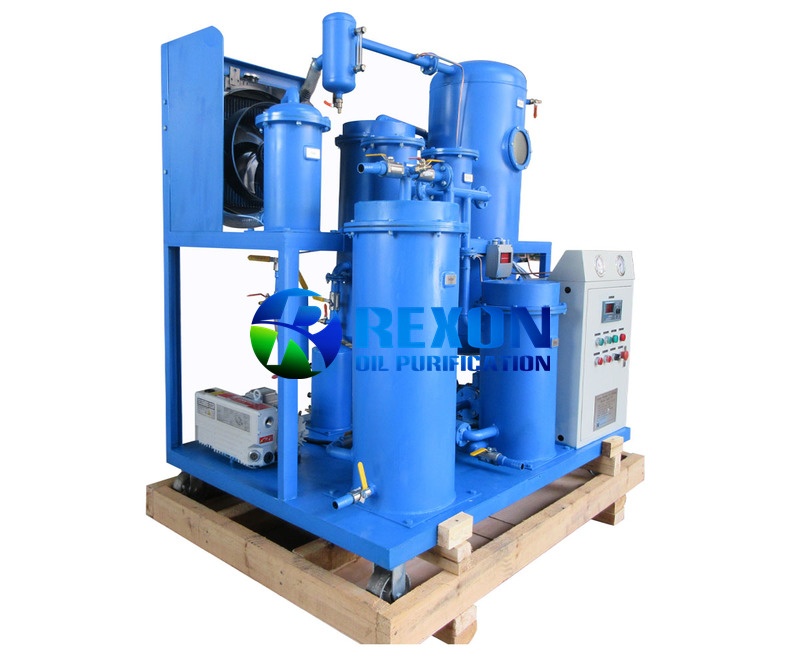 Application
Vacuum Used Lubricating Oil Regeneration and Recycling Machine Series TYA-R is mainly used for regenerating and recycling used and waste lubricating oil, hydraulic oil, compressor oil, refrigeration oil and other industrial oils by rapidly separating water, gas, particles and volatile matter (such as alcohol, gasoline, ammonia, etc.) and especially high value of acid matters from oil, and restoring oil viscosity, flash point and oil performance. It can not only remove the normal contamination like water, gas and impurities which mixed in the oil, but also regenerate oil by improving many oil features and oil data to reach the national standard data such as the acid value, PH value. The treated oil can reuse again in various industrial equipment. It is widely applied in petroleum, chemical, mining, metallurgy, electric power, transportation, machinery manufacturing, railway etc.
Advantages
The TYA-R lubricating oil regeneration and recycling system equip with the unique oil regeneration device which can effectively remove polar materials, such as acid, free carbon and so on. And it uses deep and highly precise FH rectangle filtering system, which takes high molecule absorption material technology, and it adopts powerful water filter which has great ability to break emulsification of H.P.M high molecule polymer materials. And equipping with the duplex 3D stereo-evaporation technology, eliminating the liquid water very effectively. And the machine's carbon fibre infrared heating system that can make the oil contains zero sum of ethyne after treatment. Besides these, it takes advanced double-infrared liquid automatic controller, pressure automatic-protector and the high effective equipment for degas, so it is easy to operate.
Note
Under a regular oil purification and oil recycling processing treatment for your oil by our oil purification and recycling machine, the oil will be always kept in a good condition without such water, particles contaminants. Oil's service time can be prolonged a lot to it's original lifetime.