REXON Transformer Oil Purification Plant ZYD-WM-100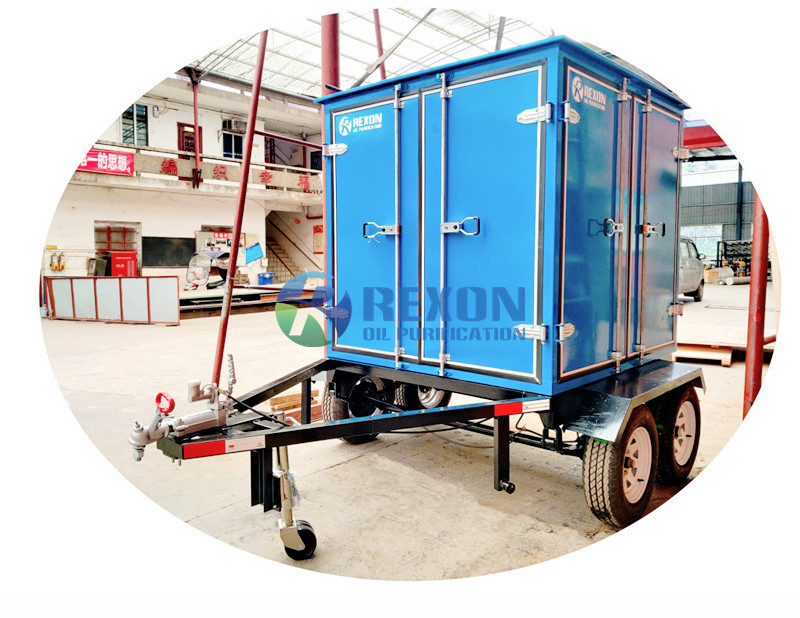 The machine we will introduce today is our REXON transformer oil filtration and purification machine ZYD-WM-100. As shown in the figure, this is fully enclosed oil treatment equipment with a two-axle four-wheel mobile trailer. The trailer can reach a speed of 60-80 miles, And this trailer has excellent stability and also comes with an automatic hydraulic braking system with the rear brake lights. At the same time, this trailer is also equipped with four positioning wheels to ensure stability after stable parking of the trailer. It is very suitable for moving this transformer oil purifier machine to various power plants and construction sites.
And let's take a look at the top of the machine, above the fully enclosed housing of the machine, four very sturdy lifting hooks are already equipped. If the user needs to lift the equipment, it will become very simple and safe lifting.
In addition, all four doors of this machine can be opened fully. Users can perform operations and inspections on any side of the machine, which is very convenient. In addition, the entire enclosed house can be removed from the trailer. If the user needs to install the transformer oil purification machine in a fixed location in the future, it is also possible.
REXON transformer oil purification machine ZYD-100 is a double-stage vacuum dehydration plant, its oil flow rate is 6000 liters/hour, and it also has the transformer evacuating function. Of course, PLC intelligent automatic control system is the basic part of the REXON plant. ZYD-WM-100's best advantage is that it's a fully enclosed machine with mobile function, flexible use, fast speed, stable staying, and high working efficiency.
Don't hesitate to contact us for more information if you are interested in our oil machinery.
Our email: [email protected] Website: www.rexonop.com and www.purifyoil.com