PLC Control System of REXON Oil Purifier
REXON uses advanced PLC programming procedures, high-quality PLC hardware, such as SIEMENS, to ensure the stability and reliability of PLC programming. The operation screen is also the same, we use stable and reliable brands, such as SIEMENS touch screen, Taiwan MCGS touch screen and so on. There are 7-inch and 10-inch screen sizes available. In general, we recommend a 10-inch screen to get a more comfortable viewing effect.
The PLC program of REXON's oil filter is rich in display and settings. For example, it shows the flow chart of the purifier, the working status of each part, it will light green in the working part, and the part that is not running will not display such a color. The PLC operation screen will also display the machine's current working time, historical accumulated working time, temperature value of oil heating, shutdown time setting, etc.
You can also increase and set a variety of functions according to your needs, such as displaying instantaneous oil flow, historical cumulative oil flow, and also displaying the water content value in oil and the impurity content value in oil.
By setting the parameters of the desired moisture content, the machine will be set to automatically shut down. Therefore, when the moisture in the oil reaches the standard, the machine will automatically shut down.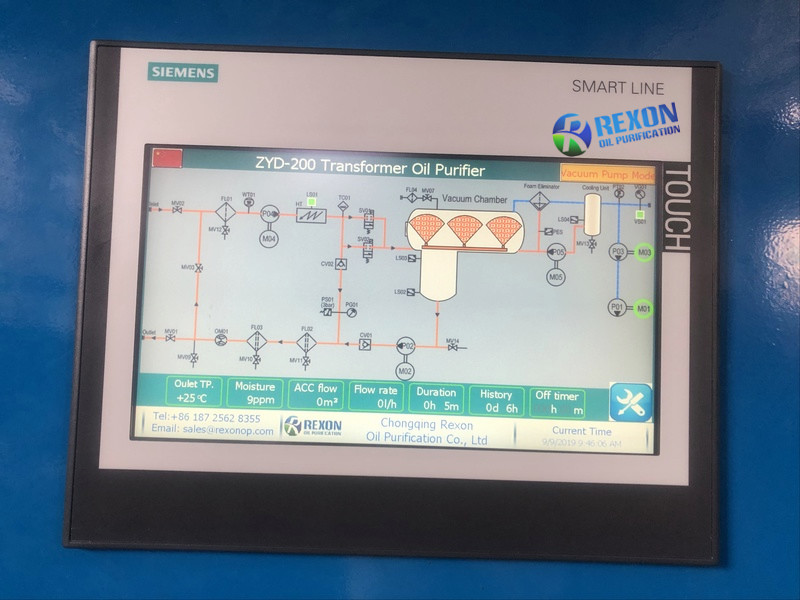 REXON has always been committed to manufacturing more efficient, high-quality, and more convenient oil purification machines, which can easily solve the problem of various oil pollution for our customers, ensure that the oil is effectively maintained, and keep it clean, so that the oil can run normally. Therefore, various types of equipment, engines, transformers, and electrical equipment will extend the service life.
Please contact us for more information.
Web:www.rexonop.com Email:sales@rexonop.com