REXON New Design Turbine Oil Purification Machine
Turbine oil, also known as steam lubricating oil, is a type of engine oil used in steam turbine engines. It is mainly used in power plants, steam turbines, hydropower generators, and other lubricating occasions that require deep and refined lubricants. It is suitable for high-speed mechanical lubrication. It mainly plays the role of lubrication, heat dissipation and cooling. Therefore, turbine oil is easily contaminated with high content moisture and get emulsified. This will reduce the quality of the oil and affect the function of the turbine oil.
REXON's newly designed turbine oil purifier TY series (for exclusive use) will easily solve this problem and bring you a simple and safe oil purification experience.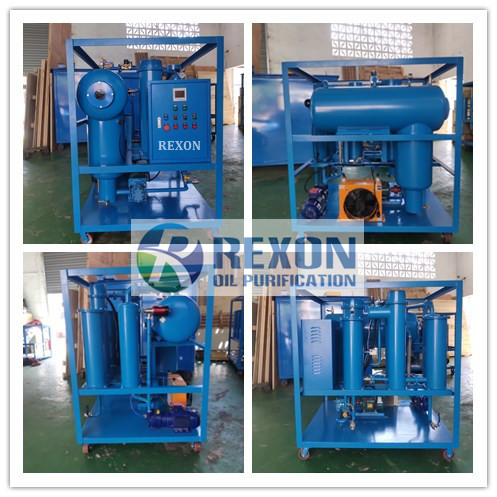 This new designed turbine oil purifier will be equipped with a specially developed vacuum dehydration system: water ring vacuum pump + water tank + powerful fan + cooling system and special water separation filter to achieve the ultimate dehydration effect. The vacuum system adopts the newly designed horizontal and vertical vacuum tank, which greatly increases the evaporation area of oil in the vacuum tank and greatly improves the dehydration efficiency.
Compared with the rotary vane vacuum pump, such a water ring vacuum pump can be used for a long time under high moisture conditions without damage. The water tank will be connected to the vacuum pump, the condensate tank and the vacuum tank are connected, and the powerful fan will play a role in rapid cooling.
In addition, the machine uses a primary filter element, fine filter element to achieve the purpose of complete impurity removal. The filtration system will remove mechanical impurities, iron filings, dust, etc. from the oil, and impurities of all sizes will be removed.
At the same time, the machine is equipped with a constant temperature control system, an efficient heating system, a safe electronic control system, a reasonable pipeline connection, a quick joint and so on. The new TY turbine oil purifier is very efficient and practical, with a service life of up to 20 years. Users will no longer be annoyed by the high water content in the oil that will damage the vacuum pump.
Welcome to contact us for more information.
REXON Team Web: www.rexonop.com Email: sales@rexonop.com