Coconut Milk Extracting Machine Screw Juicer with Crusher
Brief Introduction: 1).This machine uses high quality 304 stainless steel material, can be fruit juice and vegetable juice press work, with high efficiency, low energy consumption, the advantages of high juice rate.
2).The products that can be processed are as follows:
Vegetables: tomatoes, carrot, white turnip, sweet potato, potato ,ginger, Chinese cabbage, green pepper, chili, bitter gourd, cucumber, etc.
Fruits: apple, pineapple, pears, orange, cucumber, grape, strawberry, etc.
Features:1). The main part which contact the fruits is made of stainless steel which is very health and safe.
2). It is also the ideal crusher equipment for food process company ,beverage process company ,hotel and restaurant ,private business company.
3). It uses globally proven technology with excellent product quality, it can well meet our low investment ,high yield goal.
4). It is easy to clean and maintain and operate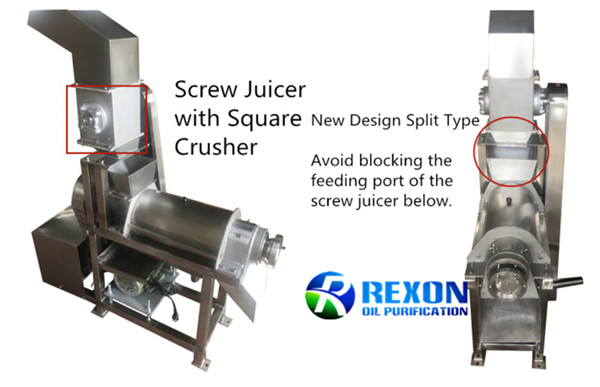 Technical Parameters of Spiral Fruit Vegetable Juicing Machine
Model

RNSC-1.0
(square crusher)

RNSC-2.5
(square crusher)

Treatment capacity(t/h)

1.0t/h

2.5t/h

Overall dimension(mm)

1200×450×1420mm

2090×700×1560mm

Weight(kg)

160kg

630kg

Screw diameter(mm)

125mm

247mm

Filter screen aperture(mm)

0.6mm

0.6mm

Rotate speed(r/min)

Crusher 1000 r/min
Screw Juicer 380 r/min

Crusher 1000 r/min
Screw Juicer 380 r/min

Screw Juicer Motor Power(kw)

2.2kw

15kw

Crusher Motor Power(kw)

1.5kw

4kw

Voltage(V)

380V50HZ

380V50HZ