Power Plant Use Double Vacuum System Transformer Oil Filtration Machine
Application
ZYD-30(1800L/H) Double Stage Vacuum Transformer Oil Filtration Machine takes two stage high vacuum pumps as the powerful vacuum system, which can produce a great high vacuum of a limitation to be 5Pa. ZYD-30 equip with 3 stages filter elements to do a particles and impurities cleaning work high efficiently.
ZYD-30 transformer oil filtration machine is mainly used for electric power department and industries to deal with various oils such as transformer oil, mutual oil, switch oil, insulating oil, dielectric oil and so on. The transformer oil purifier machine is especially for purifying the insulation oil in all kinds of large power equipment that are above 110KV, especially for the altitude is over 500-1000 meters. Our transformer oil filtration unit can remove the free and dissolved water, gas and particles from oil high-efficiently, and improve dielectric value of treated oil to be higher than 75~85KV, and increase the pressure force and quality of oil, make sure the electric device running safely. This oil purification system is very suitable for the large power electric equipment and transformers.
Technical Parameters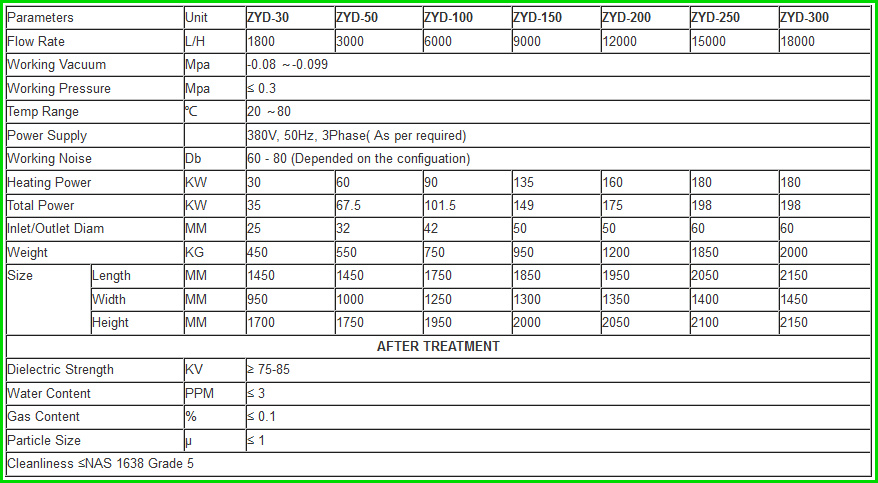 Why Need Transformer Oil Filtration Machine: For New TransformerWhen build one new transformer, you need put a lot transformer oil into new transformer, there maybe have some problem:1) Maybe have some particular in transformer 2) Maybe have some water in transformer oil 3) Some substances react with the copper in the transformer Above three problem, that will influence transformer's running and safe.
For Running Transformer
1)when running some time, there will have some ethyne, gas in transformer oil.
2)the breakdown voltage will decrease
3)the insulativity will be decrease, lower dielectric strengt