Rexon Mobile and Enclosed Type Lube Oil Purifier TYA-WM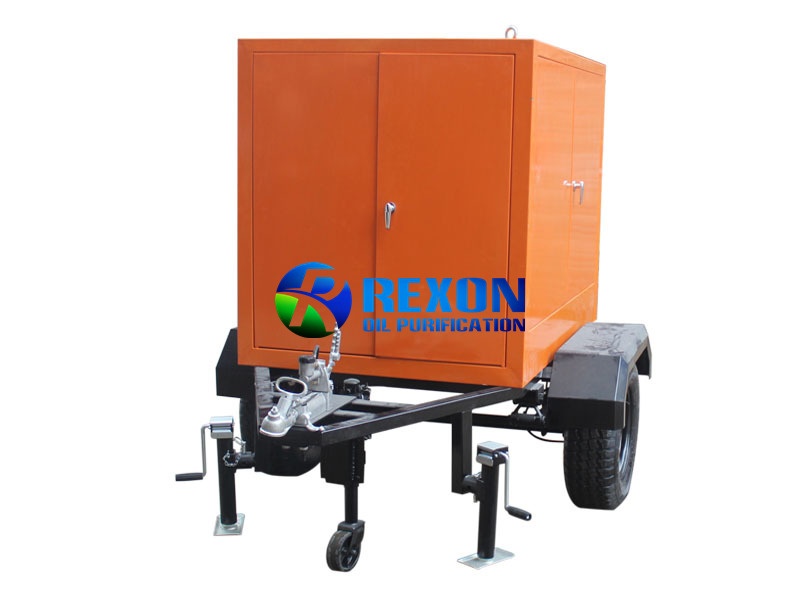 Application
Rexon Mobile and Enclosed Type Lube Oil Purifier TYA-WM takes not only housing cover for the equipment, but also takes single or double axle and big car wheels type mobile trailer to equip with the oil purifier. The same functions with TYA lubricating oil purification plant, it is used for purifying all kinds of lubricating oil such as the hydraulic oil, mechanical oil, coolant oil, gear oil, and heat treatment oil and so on. it can quickly remove water, particles, sludge as well as bad dissolved gas, and metallic impurities and other harmful ingredients from lube oil completely.
Advantages
This Plant will equip with mobile trailer(4 wheels or 2 wheels based on model size) and combined with weather proof housing cover, which can move long distance for on-site oil filtration job, easy and steady for transport. Since it is completely water proof, dust proof, it can protect the machine not to be damaged by raining weather, or in other bad circumstance use. So you can use the machine in any weather and many circumstances for any on-site oil filtration project.
Under a regular oil purification and cleaning processing treatment for your oil by our oil purifier machine, the oil will be always kept in a good condition without such water, particles contaminants. Oil's service time can be prolonged a lot to it's original lifetime, you don't need to buy new oil and replace used oil often, and save new oil cost a lot. At the same time, good lube oil can guarantee the lubricating systems/machinery working normally and also prolong their lifetime, so you don't need to worry any problems may happen caused by unqualified oil. So directly benefit, it can save a lot of your new oil cost and help you keep a better and green environment from the waste oil product.
Technical Parameters